AWARD WINNING RESTORATIONS
ESTABLISHED 1976
ROLLS-ROYCE AND BENTLEY SERVICE ON VANCOUVER ISLAND
Bristol Motors is located on Vancouver Island, in British Columbia, Canada. It was established by Jim Walters in 1976 after five years in the employ of others. We are now in our thirty ninth

year

of operation and specialize in Rolls-Royce and Bentley service as well as restoration to the highest standards on both English and American cars. We have an extensive in-house machine shop including four lathes, an ORN milling machine, a Kwik Way cylinder boring bar, a Super Surfacer surface grinder, and a Van Norman crankshaft grinder. We are able to handle everything from boring out a Packard Twelve block for new pistons to

sleeving

corroded Silver Cloud brake master cylinders back to standard dimensions. Our restoration shop has many metal fabricating machines such as: Eight & three foot shears, 10 foot 10 gauge brake, 4 foot box & pan brake, Pullmax for forming and louvering, powered bead roller, English wheel, various shrinkers & stretchers, Inverter TIG welder, etc. In our wood shop for body framing we have 3 bandsaws, 2 jointers, a shaper, planer, table saw as well as a 2 foot X 4 foot CNC router table.

We offer mobile service anywhere in the world and have traveled as far as Finland to service client's automobiles. By appointment only. Contact us at jim@bristolmotors.com
CARS FOR SALE:
1953 ALVIS TA 21 DHC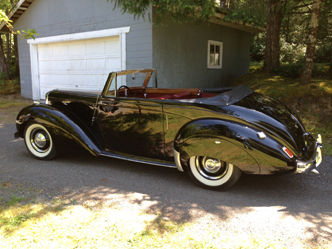 Coachbuilt Tickford body # 20225. One of approximately 80 LHD Tickford Dropheads made out of a total 302 TA21 Dropheads. Total TA21 production of all body types was 1316. This example came to us from the estate of a local gentleman, he bought the car in 1958 and owned it until his passing last year. This beautiful car drives very well, nice and tight with no rattles or squeaks. The engine is quiet and pulls strongly with no evidence of oil burning from the exhaust. Brakes are excellent and quiet, no juddering or pulling. Synchros in the transmission work as they should, very smooth shifting. Alvis enthusiasts will know that 2nd, 3rd, & 4th gears in the transmission are Herringbone cut, and as such are extremely quiet running. The straight cut first gear in this car is also very quiet indicating it's good condition. The transmission along with the engine were completely rebuilt in 2001. New .020 pistons were installed, the crankshaft was turned .020 & .020. The engine block is original, numbers matching, however a later TC21 cylinder head with hardened valve seats was installed. Invoices from Red Triangle for the parts are with the car as well as a detailed description of the work performed. All receipts for parts and work done over the last 55 years are with the car, the majority from Red Triangle. The previous owner used the car very seldom after the engine and transmission work, I am told by his family that he put less than 1000 miles on it from the rebuild in 2001 until his passing last year. He purchased it in 1958 in California, and it was his pride and joy for 55 years. His children have wonderful memories of growing up with Sunday drives in the car. He unfortunately passed away last year and so his family has reluctantly put the car up for sale. There are invoices to prove his ownership for the past 55 years, and the condition certainly speaks to the fact this gentleman kept extremely good care of this fabulous car. As one can plainly see from the pictures, this Alvis is in exceptional condition. Paint and chrome are perfect, the leather interior is extremely good with only minor wear showing on the driver's seat back. The finish on the interior woodwork is also in remarkably good condition. The doors both close easily and have no sag in them whatsoever. This is a very desirable automobile and one in such exceptional condition with only two owners from new rarely comes on the market. There is no mascot with the car. Asking 50,000. Open to offers. Click
HERE
for numerous detailed pictures.
Contact Jim at
jim@bristolmotors.com
for more information or an appointment to view.
---
All types of obsolete wheel and master cylinders sleeved in bronze. Above is a set of Bentley S front wheel cylinders, before and after.
---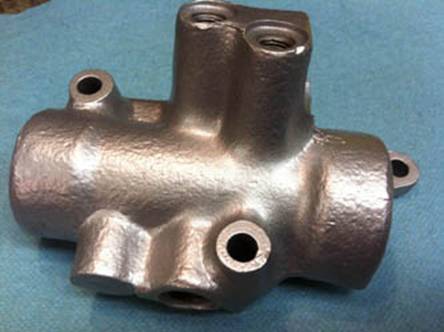 Rolls-Royce Silver Shadow accumulator spheres and valves rebuilt & recharged. We also have a pressure test rig to set the relief pressures in the accumulator valves to the correct settings. If they are corroded inside we bore and sleeve them with 660 Rotocast bearing bronze.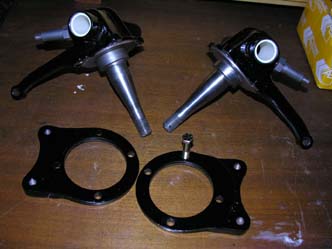 ---
---
We manufacture many parts for Morgan cars in our own shop, from hard chrome kingpins and bronze or
Vesconite bushes to complete wood body tubs, skinned in alloy or steel. Click on the blue Morgan car
listings below to see some other examples of our Morgan work.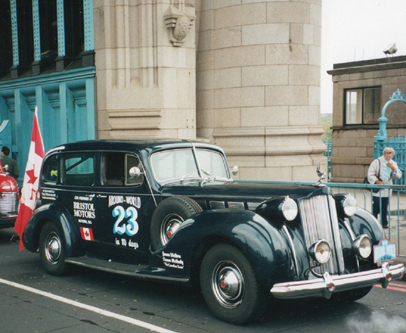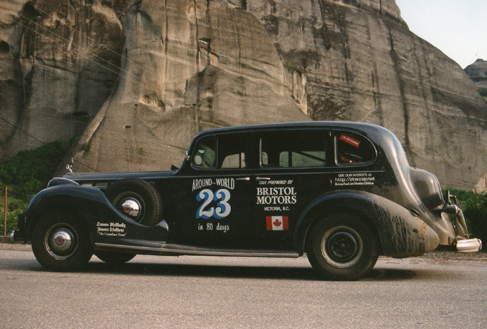 Tower Bridge, London, May 1st, 2000.
Ready for the start of the Around the World in Eighty Days Motor Challenge.
On the road in Greece.
Chicken, Alaska, heading for New York.
---
Click on THIS LINK to read about our entry in the Around The World In Eighty Days Motor Challenge in which we won the Vintageant Class in our 1938 Packard Super Eight. This was a grueling 20,000 mile race around the globe from May1st to July 18th, 2000.
SOME OF OUR RESTORATIONS AND PAST WORK:
RECENT WORK IN THE SHOP:
CURRENT RESTORATIONS:
BRISTOL MOTORS PO BOX 424 COBBLE HILL BRITISH COLUMBIA CANADA V0R1L0
Website built and maintained by Jim Walters. Contact at
jim@bristolmotors.com
Pebble Beach, 2012
SOLD